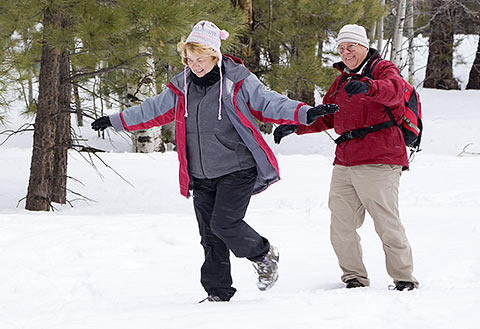 Painful foot conditions put senior citizens at risk for dangerous, even deadly falls. The Centers for Disease Control and Prevention recently announced that falls have become the leading cause of injury deaths for seniors. The latest statistics reveal more than 13,700 older adults a year die from falls.
You are vulnerable to falls if you have lower body weakness or problems with walking and balance. Arthritis, corns, bunions, hammertoes and other painful foot ailments can be contributing factors.
Just one fall can permanently rob an older adult of his or her independence and quality of life. If you're an older adult who suffers from foot pain or other conditions that affect your balance and stability, call our office for an examination. Many times, simple, effective measures such as stretching exercises or padding for painful corns and hammertoes can reduce or eliminate your foot pain. When surgery is the most appropriate treatment for a senior's painful feet, advances in modern surgical techniques often allow treatment to be performed on an outpatient basis.
Research shows that seniors who have fallen before or who stumble frequently are two to three times more likely to fall within the next year. Don't let your painful feet put you at risk for a fall!
General tips to avoid winter ankle injuries:
Keep areas around outside doorways well-lit so icy patches are visible.
Wear shoes or boots with a traction sole that can prevent slipping.
Check for slippery spots before getting out of a car or walking on stairs.
Avoid wearing high-heeled shoes outdoors.
Stretch and warm up before outdoor and indoor physical activities.